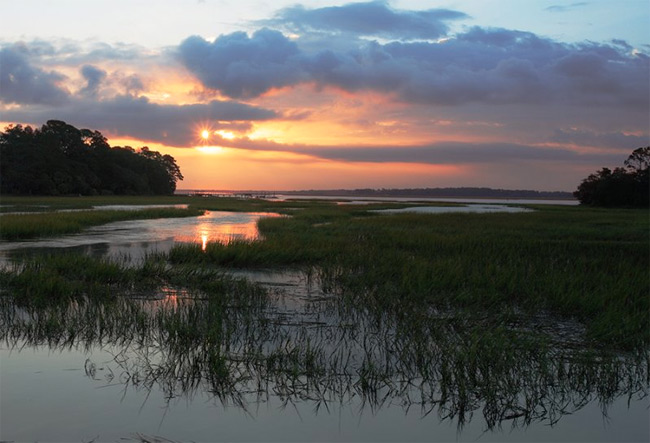 Are you looking to purchase one of the many Bluffton SC homes for sale that are currently on market? If the answer is YES, then you've definitely come to the right place. Scroll down the page and learn more about Bluffton SC real estate options and lifestyle!
A Lowcountry town in Beaufort County, South Carolina, Bluffton is primarily located around U.S. Route 278, between Hilton Head Island and Interstate 95. Included within the Hilton Head Island-Bluffton-Beaufort, SC Metropolitan Statistical Area, the zip code for Bluffton is 29910.
The town consists of five primary areas which include: The historic district of Old Town, on the northern bluff of the May River; Palmetto Bluff, located on the southern side of the May River; Jones Estate, situated along the New River; Buckwalter, located on the northwest side of town; and Shultz Tract, north of Old Town. The May River winds through the center of town.
The fifth largest municipality in South Carolina by land area, Bluffton has a total area of 54 square miles, of which 52.2 square miles is land and 2.2 square miles is water. Nearby cities and towns include: Town of Hilton Head Island, City of Beaufort, Town of Port Royal, City of Hardeeville, Town of Ridgeland, City of Savannah, City of Tybee Island, City of Port Wentworth, City of Pooler, Town of Estill, Town of Hampton,and Town of Yemassee.
Known for its eclectic Old Town district and natural views of the May River, Bluffton has been called "the last true coastal village of the South."
BLUFFTON REAL ESTATE AND HOUSING OVERVIEW
The median home value in Bluffton is $189,300. The median age of Bluffton SC real estate is 8 years. Renters make up 16.63% of the Bluffton population and 22.31% of houses and apartments are unoccupied (vacancy rate). Value of Owner-Occupied Housing:
Less Than $20,000 0.03% 3.30%
$20,000 to $39,999 2.71% 3.44%
$40,000 to $59,999 0.00% 4.18%
$60,000 to $79,999 0.00% 5.80%
$80,000 to $99,999 1.58% 7.08%
$100,000 to $149,999 8.80% 15.77%
$150,000 to $199,999 26.53% 15.03%
$200,000 to $299,999 25.77% 18.50%
$300,000 to $399,999 8.80% 10.39%
$400,000 to $499,999 5.64% 5.66%
$500,000 to $749,999 15.62% 6.39%
$750,000 to $999,999 1.41% 2.28%
$1,000,000 or more 3.13%
Not every Bluffton SC property for sale can be found on the Internet. Let our direct access to all the Bluffton listings help you locate your dream home in the most efficient way possible.
Discover Best Buy Homes! Based on your basic housing parameters, Bluffton property listings will be sent direct to your email and will update daily!
"Relocating to the Lowcountry of South Carolina" is a great guide and a wonderful booklet. It's also a great resource for those interested in learning more about Beaufort County, South Carolina and it's free!
Residential utility providers include: Electric and Gas – SCE&G; Water and Sewer – www.bjwsa.org; Telephone and Internet – Century Link and Hargray. Additional Internet service providers include: ISLC and Charter.
CLIMATE
Bluffton SC real estate and the surrounding Lowcountry features a balmy, subtropical climate year round. Bluffton gets 52 inches of rain per year and no snow. The number of days with any measurable precipitation is 104. On average, there are 217 sunny days per year with July highs around 89 degrees and January lows at 39 degrees.
PEOPLE
As of 2014, Bluffton's population is 12,186. There are 238 people per square mile (population density). The median age is 34.2. 59.69% of people in Bluffton are married and 14.07% are divorced. The average household size is 2.7 people. 37.28% of people are married, with children and 12.97% have children, but are single.
EDUCATION
Strong school systems attract new residents and help their cities prosper. The quality of a school district is often a top factor for parents considering where to live. Families with school age children who buy Bluffton SC real estate are part of the Beaufort County School District. Bluffton schools spend $14,647 per student. There are 11 students per teacher, 669 students per librarian, and 427 students per counselor.
Local public schools include: Bluffton High School, H.E. McCracken Middle School, Bluffton Middle School, Bluffton Elementary School, M.C. Riley Elementary School, Pritchardville Elementary School, Red Cedar Elementary School and River Ridge Academy. Higher education is an important sector in Bluffton's local economy, with institutions such as the University of South Carolina Beaufort Hilton Head Gateway Campus and Technical College of the Lowcountry nearby.
ECONOMIC OVERVIEW
The unemployment rate in Bluffton is 4.50%, with job growth of 5.23%. Future job growth over the next ten years is predicted to be 46.00%. Sales tax rate is 6.00%. Income tax is 7.00%. The income per capita is $28,903, which includes all adults and children. The median household income is $63,614.
Bluffton has become a tourist destination in its own right with a large number of hotels, restaurants and shopping areas. The city is the headquarters for CareCore National, a provider of evidence-based healthcare solutions. Bluffton is also home to South Carolina's last full-time oyster shucking business, Bluffton Oyster Co, which first opened in 1899.
INTERESTING THINGS TO DO
MEDICAL/HOSPITALS NEAREST TO BLUFFTON
⦁ Beaufort Memorial Hospital
⦁ Coastal Carolina Hospital
⦁ Beaufort – Jasper – Hampton Comprehensive Health Services
⦁ Hilton Head Regional Medical Center
⦁ Beaufort Health Department
⦁ U.S. Naval Hospital Beaufort
TRANSPORTATION
The Palmetto Breeze provides a variety of public transportation services. Click here for bus and service route information. The nearest major airport serving Bluffton SC homes for sale is Hilton Head Airport (HHH / KHXD), with domestic flights from Hilton Head Island. Another major airport is Savannah/Hilton Head International Airport (SAV / KSAV), with domestic flights from Savannah, GA.
Whether you are looking to buy a home in Bluffton SC or sell your existing home, our mission is to provide exceptional customer service while assisting you throughout the transaction.
Our main areas of focus within Beaufort County include: Bluffton, Bluffton/Off Plantation, Sun City Hilton Head/Okatie, Hilton Head Island, Callawassie Island, Spring Island and Beaufort, South Carolina. We can also assist you with real estate beyond South Carolina in other states and internationally.
Please call us today or fill out the online contact form, and let us know how we can best serve your Bluffton SC real estate needs. We look forward to speaking with you!
Steve Wallace Real Estate Listings & Home Sales
Weichert, Realtors® Coastal Properties
Direct Cell Phone (Best) 843-540-4282
(Office) 843-815-9191
(Fax) 843-815-9192
Email: stevesellshomes@outlook.com