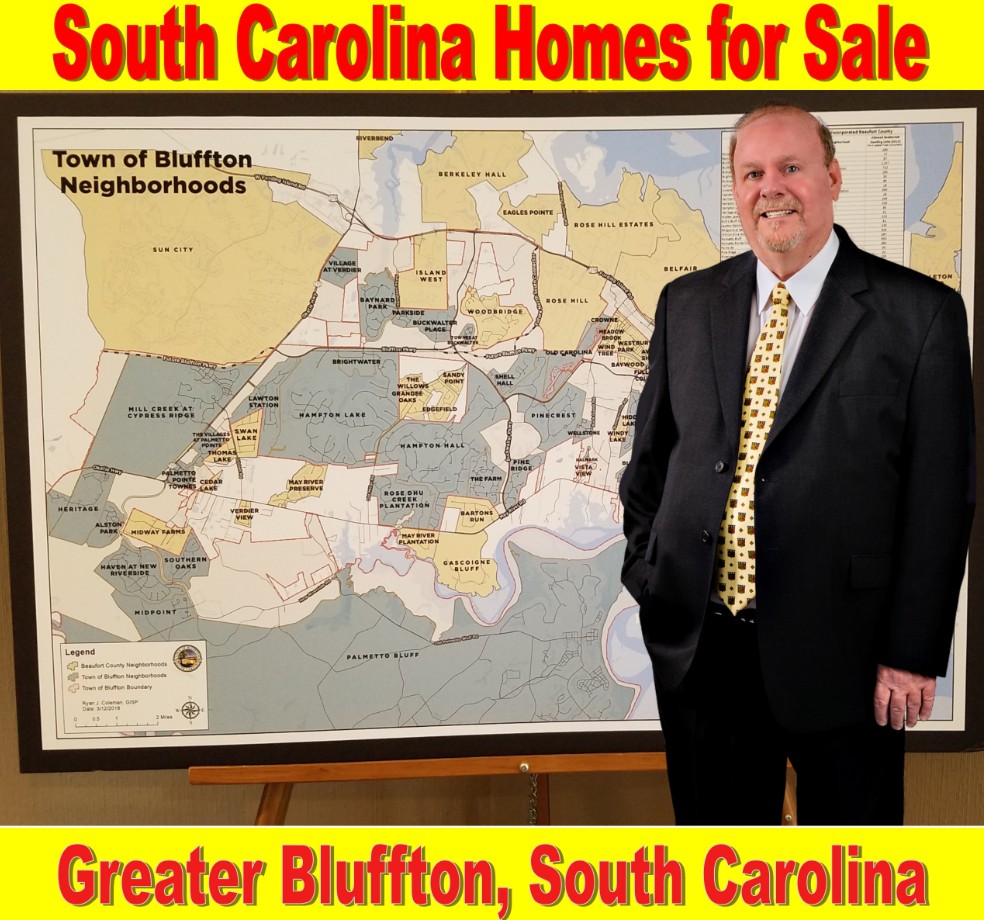 When you plan to buy or sell Bluffton, South Carolina, real estate properties and homes for sale, speak with neighborhood expert real estate professional, Steve Wallace, Realtor. Steve's designated market areas, or DMA for short, include all Bluffton Off Plantation neighborhoods and all Bluffton plantations. Steve is ready to assist you with the purchase or sale of homes anywhere and everywhere in Bluffton.
If you are searching for a home in Bluffton and focused on a specific geographic location in Bluffton, speak with Steve and he will create a custom home search especially for you. Steve uses geo-targeted home searches to find great homes for his customers. Being your local real estate professional Realtor not only involves just finding the home or selling the home; but, being your guide, negotiator, advisor and advocate and making sure that your needs and goals are met. So, speak with Bluffton neighborhood expert, Realtor Steve Wallace, when you are ready to buy or sell a Bluffton home.
Check out the designated market areas below. Many of our listed designated market areas are actually clickable links. Click on the clickable neighborhood names below and you'll be brought to a page with all the geo-targeted active residential listings of homes for sale in Bluffton neighborhoods. Speak with Steve to learn more about homes for sale and to buy or sell a local home.
Arborwood

Buckingham Landing

Buckwalter Parkway

Cedar Lake

Downtown Historic Bluffton

Old Carolina

Verdier View
Interested in active residential listings of villas for sale in Bluffton condominium complexes? If so, you'll be happy to know Steve's DMA (designated market areas) include all the local condo complexes. Find affordable and luxurious villas for sale in a variety of areas in Bluffton. Discover villas for sale in the neighborhoods listed below and click on the following link to find villas for sale in Bluffton, SC: https://www.stevewallacerealestate.com/condos-villas-for-sale-in-bluffton-sc.
BridgePointe Condos

Calhoun Street Promenade

The Colony at the Crescent

The Estate At Westbury

Hampton Lake Villas

Lake Linden Garden Home Villas

Plantation Point

The Reserve at Woodbridge

The Villas at Old South
Whether you're a home buyer exploring all your options, or geo-targeting specific neighborhoods, Steve is ready to assist you in your home search. Steve makes it his duty to find you not only a home to meet your needs, but the perfect combination of amenities, location and design to best fit who you are and exactly how you aspire to live in Bluffton, South Carolina.
If you're a homeowner thinking of selling, contact Steve today. Begin with a free comparative market analysis to determine your home's value in the current market. Visit our House Value Home website and complete the easy fill-on blocks. Visit, http://housevaluehome.com/ or speak with Steve to initiate the home selling process. You'll discover our top-notch real estate marketing program, provided to our home sellers, when you list your homes for sale.
You don't need to know everything about buying and selling Bluffton SC real estate if you hire a real estate professional neighborhood expert who does. Steve works, plays and lives in Bluffton. He brings over a decade of real estate experience helping relocating home buyers and sellers. He looks forward to assisting you too! Make contact today for professional real estate assistance and to buy or sell a Bluffton home.
Steve Wallace, Realtor® Based in Bluffton, SC
Accredited Buyer's Representative (ABR®)
Short Sales and Foreclosure Resource (SFR®)
Real Estate Listing Agent and Seller's Agent
U.S. Military on the Move Real Estate Professional
Assisting Folks Buying Homes and others Selling Homes
Steve Wallace Real Estate Listings & Home Sales
Weichert Realtors Coastal Properties
Greater Bluffton, South Carolina, USA
SteveSellsHomes@Outlook.com
1843-540-4282