Search Bluffton SC real estate at SteveWallaceRealEstate.com. Find listings of houses, condos, lots & new homes for sale in Bluffton, South Carolina. Know that Home Buyer's Agent/Realtor Steve Wallace is at your service in all neighborhoods and plantations. He also provides a free relocation guide for newcomers relocating to the town of Bluffton.
Once a quite tidewater village know as the last true coastal village of the South, Bluffton is situated on a high bluff overlooking the May River in the Heart of the South Carolina Lowcountry. Bluffton is located just 12 miles west of the premier resort destination of Hilton Head Island, SC and approximately 20 miles northeast of Savannah, GA. The town of Bluffton expanded its territory by 32,000 acres through annexation of primarily four tracts of undeveloped land, becoming the fifth largest town in South Carolina (by land area). While growth has brought change, Bluffton still retains its small town feel and Southern hospitality. With growth comes new schools, stores, shops, restaurants, parks, and master planned communities with top amenities. Speak with Agent/Realtor Steve Wallace to learn more.
Bluffton neighborhoods are diverse and there are over 100 communities to consider when opting for residential home ownership in a permanent residence or a vacation condo which we call vacation villa. Neighborhoods offer a variety of amenities to suit the taste and budget of any potential property owner. Bluffton has gated communities, equestrian communities, a lake community, active adult communities for those 55+ and better, plantation communities, private golf communities and a variety of areas and neighborhoods located off plantation. Speak with Agent/Realtor Steve Wallace to learn more.
All Joy Road Okatie
Alston Park Old Carolina
Arborwood OLDFIELD
Baileys Section PALMETTO BLUFF
Bartons Run Crossing Palmetto Pointe
Bartons Run Drive Palmetto/Brighton Bch
Baynard Park Paulie's Place
Baywood Pinckney Colony
BELFAIR Pine Forest Village
BERKELEY HALL Pine Ridge
Big Buck Island Pinecrest
Bluffton Heights Plantation Point
Bluffton Terrace Pritchard Farms
Bluffton Township Pritchardville
Bluffton Village River Oaks
Bonnie Doon Plant Rivers End
Bridgepointe Condo Riverview Terrace
Brighton Oaks ROSE DHU
Brighton/Palmetto Bch ROSE HILL
Browns Bluff Sandy Point
Buck Island Sawmill Creek
Calhoun Street Promenade Sawmill Forest
Cashman S/D Seagrass Station
Castle Point Shell Hall
COLLETON RIVER Shultz Tract
Confederate Acres Simmonsville
Cypress Ridge South Pointe
Eagles Pointe Southern Oaks
Edgefield Springhouse
Estill Beach Stock Farm
Fernlakes SUN CITY HILTON HEAD
Fording Island Road SUN CITY RIVERBEND
Foreman Hill Estates Swan Lake
Garvey Hall Plantation The Colony at The Crescent
Gascoigne Bluff The Crescent
Grande Oaks The Estate at Westbury
HAMPTON HALL The Farm at Buckwalter
HAMPTON LAKE The Haven at New Riverside
Harrison Island The Meadows at New Riverside
Heritage at New Riverside The Reserve at Woodbridge
Heritage Lakes The Townes at Buckwalter
Hidden Lakes The Traditions
Huggins Lake The Villas at Old South
Hunting Island Plantation Thomas Lakes
Island West Town of Bluffton
Johns Farm University Park
Kidney Island Verdier View
Kirk's Bluff Victoria Bluff
Lake Linden Village at Bluffton Park
Lake Linden Garde Homes Village at Verdier Plant
Linden Plantation Village Olde Town
Log Landing Vista View
Martin's Place Wellstone at Bluffton
May River Place Westbury Park
May River Plantation Willows
May River Preserve Windtree
Meadow Lake Windy Knoll
Meadowbrook Windy Lakes/Sugaree
Midpoint Woodbridge
Midway Farms PLUS NEARBY AREAS
Mill Creek at Cypress Ridge Beaufort
Millbrook S/D Callawassie Island
Mitchell Tract Hardeeville
Mossy Oaks S/D Hilton Head Island
Myrtle Island Spring Island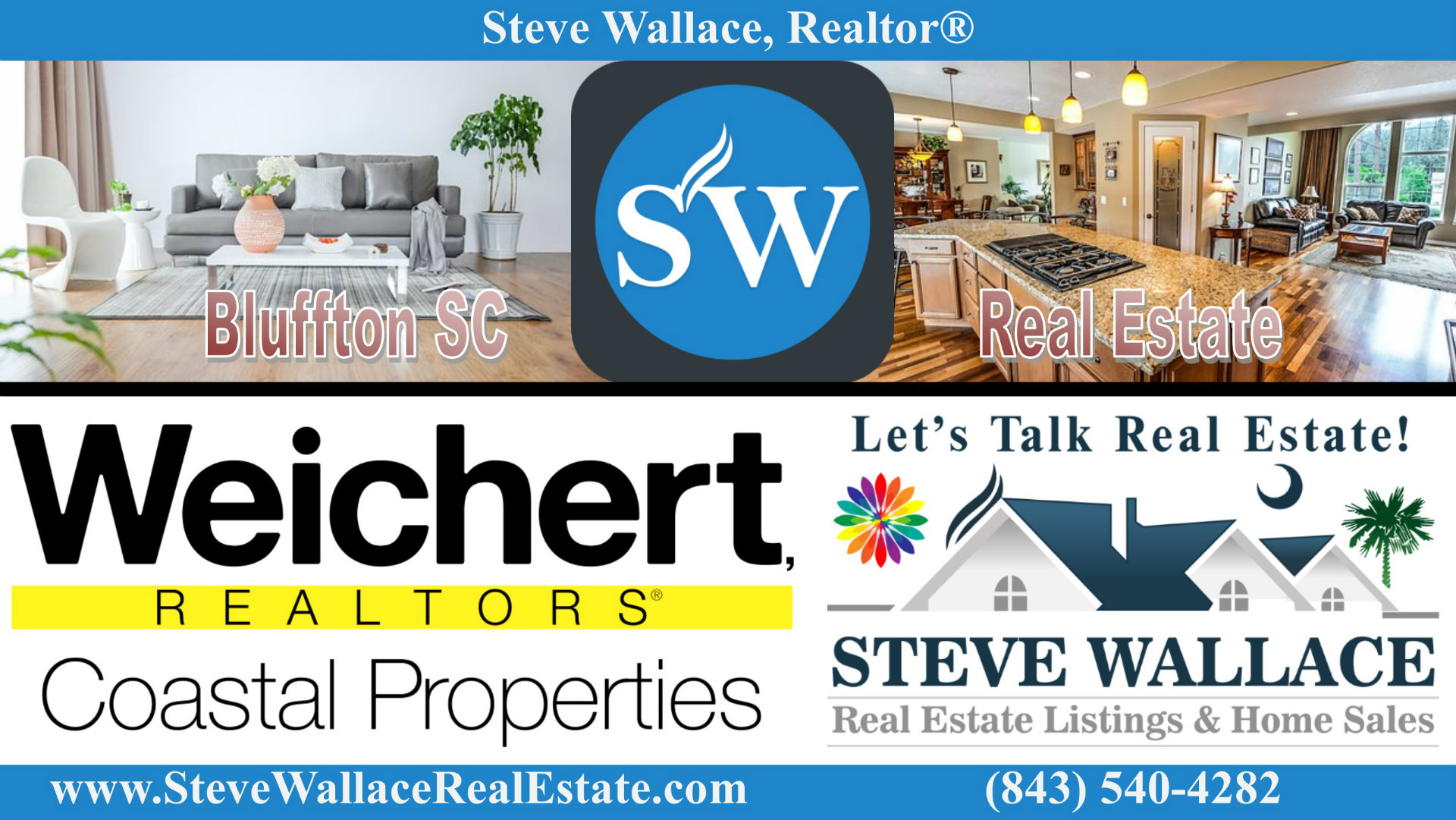 Search real estate listings of houses, condos, lots, townhouses & new homes for sale in Bluffton, South Carolina. Speak with Agent/Realtor Steve Wallace for personal Bluffton Realty service. On your journey to your next home, your first move is a call to Steve Wallace, Realtor.