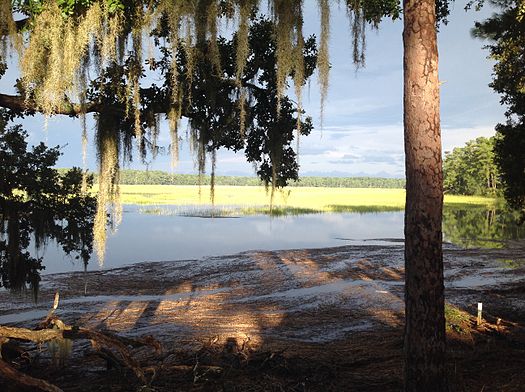 If you are interested in buying Callawassie Island SC real estate, then you've definitely come to the right place. Scroll down the page and learn more about Callawassie homes for sale, and what this beautiful Island paradise and diverse natural habitat has to offer!
With 11 miles of coastline and salt marshes surrounding a landscape of green meadows and moss-draped oaks, Callawassie Island is one of hundreds of barrier and sea islands, that make up a portion of Beaufort County, South Carolina. Callawassie Island SC real estate falls under the 29909 zip code. The island is nestled at the convergence of the Callawassie Creek and Little Chechessee, Okatie, and Colleton Rivers.
Callawassie Island is characterized by a diversity of natural communities, which include: brackish marsh, maritime forest, maritime shrub thicket, salt marsh, salt flat, salt shrub thicket, and tidal freshwater marsh. The natural habitat and the waters that surround the island support an abundant array of wildlife with some of the most common species including: alligators, songbirds, birds of prey, fox, water fowl, otters, deer, possum, raccoon, mink,reptiles, amphibians and bottle-nosed dolphin.
The Island can be accessed by either a half mile causeway or by boat via the deep waters of the Colleton River. Adjacent islands to Callawassie include: Spring, Lemon, and Daws Islands which are settled as well as Wim's, Crane, and Rose Islands which are uninhabited. Callawassie Island is more than just a beautiful residential island with first-rate amenities – it's a vibrant, dynamic community and a great place to enjoy life at it's finest!
CALLAWASSIE ISLAND RESIDENTIAL HOME OPTIONS
The 880-acre residential community offers a wide variety of Callawassie Island SC real estateoptions to choose from – starting from the mid-100,000′s.
Discover Best Buy Homes! Based on your basic housing parameters, Beaufort SC property listings will be sent direct to your email and will update daily!
Over half of Callawassie Island property owners are full-time residents. Golf homes, marsh-front homes, laggon-front homes deep-water homes with private docks, and new construction building sites are available.
Discover Best Buy Homes! Based on your basic housing parameters, Beaufort County property listings will be sent direct to your email and will update daily!
Residential utility providers include: Electric and Gas – SCE&G; Water and Sewer – wwwbjwsa.org; Telephone and Internet – Century Link and Hargray. Additional Internet service providers include: ISLC and Charter.
CLIMATE
Callawassie Island and the surrounding Lowcountry features a balmy, subtropical climate year round. The island gets around 48 inches of rain per year, and the number of days with any measurable precipitation is 94. On average, there are 214 sunny days per year on Callawassie Island with July highs around 90 degrees and January lows around 40 degrees.
EDUCATION
Strong school systems attract new residents and help their cities prosper. The quality of a school district is often a top factor for parents considering where to live. Families with school age children who buy Callaswassie Island SC real estate are part of the Beaufort County School District – List of public schools – click here.
There are nine colleges nearest to Callawassie Island SC real estate. For a complete directory of nearby two and four year schools, both public and private – Click here.
ISLAND ACTIVITIES
NEAREST MEDICAL/HOSPITALS
NEAREST MAJOR AIRPORTS
The nearest major airport serving Callawassie Island homes for sale is Hilton Head Airport (HHH / KHXD), with domestic flights from Hilton Head Island. Another major airport is Savannah/Hilton Head International Airport (SAV / KSAV), with domestic flights from Savannah, GA.
Whether you are looking to buy a home on Callawassie Island SC or sell your existing home, our mission is to provide exceptional customer service while assisting you throughout the transaction.
Our main areas of focus in Beaufort County include: Bluffton, Bluffton/Off Plantation, Sun City Hilton Head/Okatie, Hilton Head Island, Callawassie Island, Spring Island and Beaufort, South Carolina. We can also assist you with real estate beyond South Carolina in other states and internationally.
Please call us today or fill out the online contact form, and let us know how we can best serve your real estate needs. We look forward to speaking with you!
Steve Wallace Real Estate Listings & Home Sales
Weichert, Realtors® Coastal Properties
Direct Cell Phone (Best) 843-540-4282
(Office) 843-815-9191
(Fax) 843-815-9192
Email: stevesellshomes@outlook.com