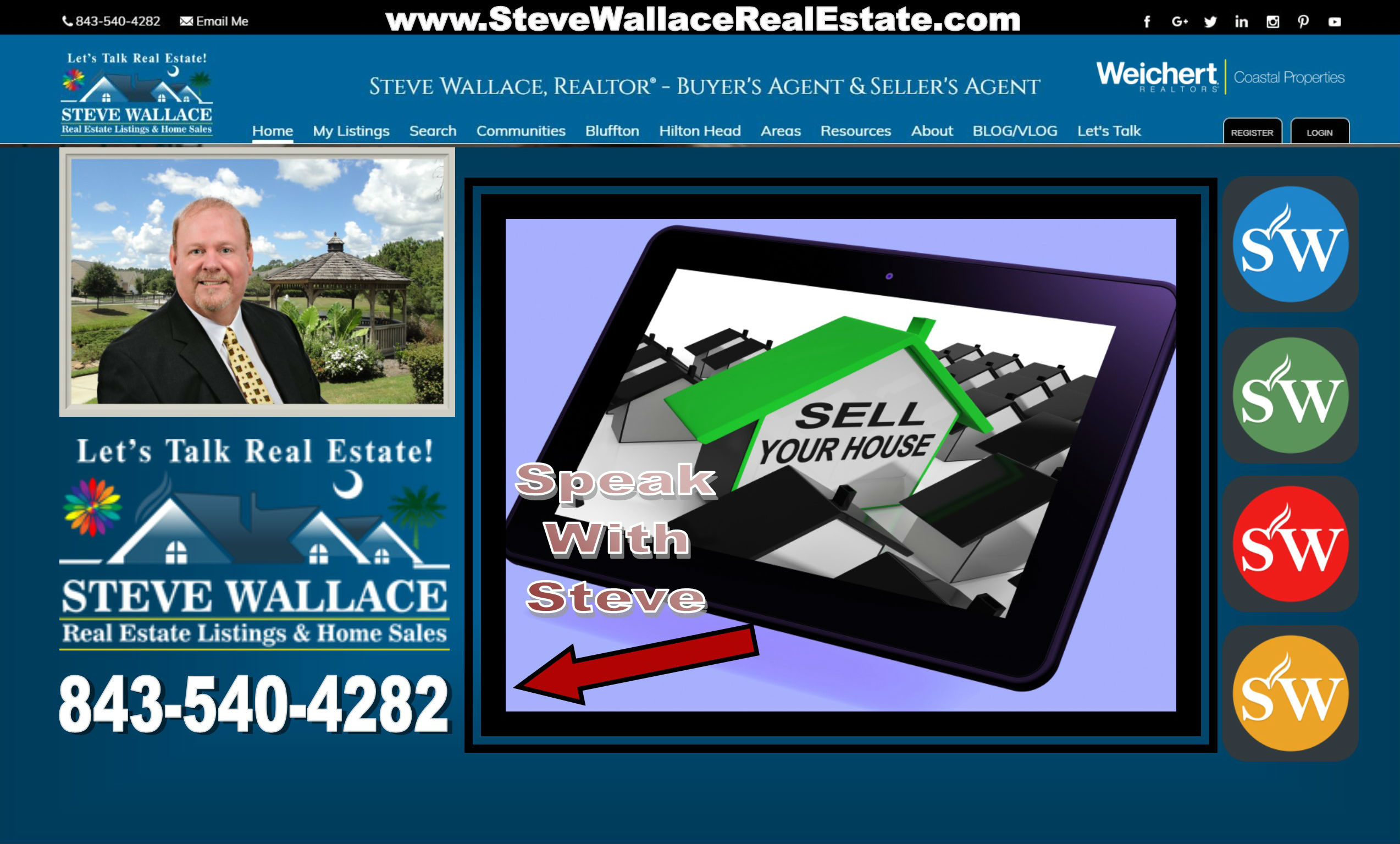 Selling Bluffton Homes
With a marvelous online presence and the most comprehensive database of Bluffton, South Carolina real estate properties, we're selling Bluffton homes for sale. Steve Wallace Real Estate, with Weichert Realtors Coastal Properties, is ready to help you get your home sold. We have tried and true systems in place to help make your buying or selling real estate experience an enjoyable adventure rather than a daunting task. We're helping people buy and sell their homes in all Bluffton neighborhoods and plantations.
Welcoming Bluffton Home Sellers and Buyers
We welcome visitors to Steve Wallace Real Estate, your resource for buying or selling real estate and homes in Bluffton, SC. Are you a homebuyer, or a vacation home buyer looking for Bluffton homes for sale? You can find information on new and resale single family homes in Bluffton, South Carolina as well as information on many condos, townhouses and lots or land for sale. Explore your myriad of opportunities in residential real estate in the town of Bluffton. Access our quick home search, advanced home search and map home search. Real estate investors and others searching distressed properties can also access our home foreclosure search. When you're ready to buy we're ready to help you in the purchase process. We're selling Bluffton homes in all areas, neighborhoods, subdivisions and plantations.
Ready to Sell Your Home in Bluffton, SC
Are you tired of paying bills on a house, townhouse or villa you no longer want to keep? Do you need to sell your house fast in the Bluffton area and want to deal with a trusted, "best-in-class" real estate agency and brokerage, resident Realtor and licensed Real Estate Agent who works with both home buyers and sellers? A local and experienced real estate agent who will help lead you in the right direction? Or maybe you had your house listed for sale or you attempted a for sale by owner (fsbo) with no success. Whatever the case, connect with local real estate agent and author, Steve Wallace, Realtor. Steve brings over a decade of professional experience assisting relocating home sellers and buyers. He looks forward to assisting you too! Steve Wallace Real Estate provides many seller services to relocating home sellers.
Custom Doors Real Estate Listing Presentation
If you have a Bluffton, South Carolina residential property and need to sell it, give us the chance to present you with our custom Doors listing presentation. Our presentation lets you follow the process we use to list your property, market it for sale, and bring you from contract to closing. As a full-service provider of homeownership services, Weichert Realtors has grown from a one office company to become one of the largest privately owned and franchise companies in the USA. We have been and continue to assist folks relocating to and from Greater Bluffton areas of the South Carolina Lowcountry. We bring over a decade of professional Realty experience helping relocating home sellers and buyers. We look forward to providing you with realty assistance.
Helping Home Sellers, Buyers and We Creatively Problem Solve
Our mission as to why we are in business is to help people. We do this by alleviating the stress of a burdensome home, by helping Bluffton home owners sell their house fast, with the least inconvenience for top dollar. We also creatively problem solve and have experience dealing with a variety of different situations. There are many reasons to sell… to get rid of burdensome mortgage payments, to upsize, downsize, divorce, death, job relocation, retirement… whatever your reason for selling and whatever changes life brings, we can help. When life brings changes, contact Steve Wallace Real Estate. We can also help if you had your home listed for sale before, your listing expired and you're your house didn't sell. Or maybe you attempted a FSBO (for sale by owner) and were unsuccessful. We creatively problem solve and provide solutions to help you achieve your Bluffton real estate goals.
Home Buyers Find Their Dream Homes From Our Comprehensive Database
We also help home buyers find the home of their dreams from the most affordable to the most luxurious of Bluffton real estate properties. We have a comprehensive database of all the homes for sale in Bluffton and the surrounding areas. Home buyers can search homes 24/7. We are also social and many home buyers find us on social media sites like facebook, youtube, google plus, twitter, pinterest and other social sites.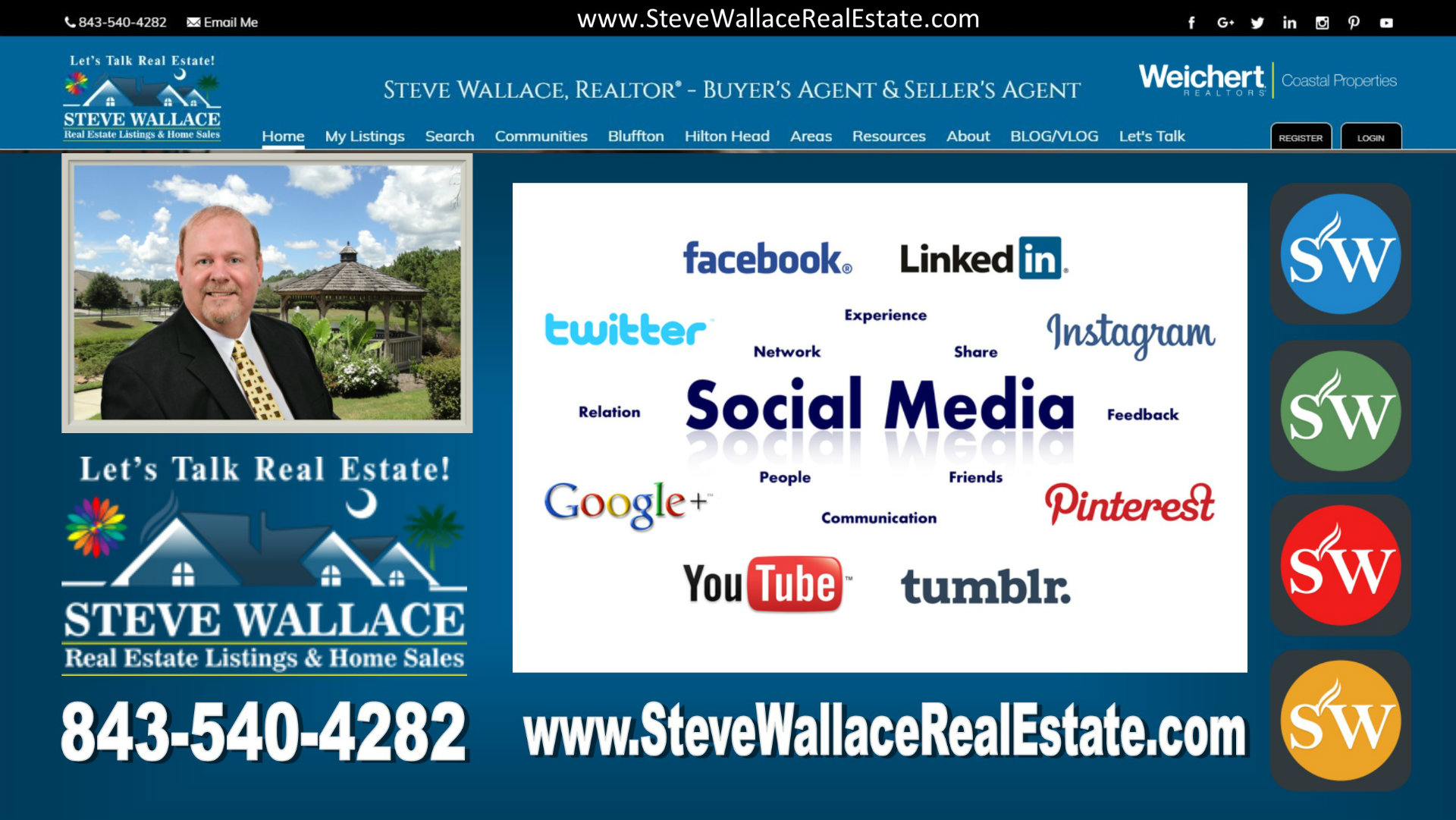 Local Home Selling Help and Professional Realty Assistance
Selling a Bluffton home can be an arduous, painstakingly long, and emotional process. We understand the emotions involved and the entire process because we do it often. Dealing with Agents, Realtors, lawyers, mortgage companies and getting through home inspection and appraisal process can be downright frustrating. It doesn't have to be when you have local help and professional assistance. Someone at your side who understands the process and understands both the selling and buying process. We help residential Bluffton property owners just like you, in all kinds of situations. From divorce, foreclosure, job relocation, death of a family member, burdensome rental property, and all kinds of other situations. We are ready to help you too!
Selling More than Houses - Selling Lifestyles
Did you know we sell more than houses; but, our priority is home sales? Whether you have a new single-family home, older resale home, townhouse, or condo, we can sell your property; however, in many cases we may first sell the lifestyle. Yes. That is correct. Many relocating home buyers are unfamiliar with the Bluffton area and we help them learn more and provide lifestyle reasons to help get them motivated and understand the great features of our area, neighborhoods and homes for sale. From our temperate climate, opportunities for golf, tennis, shopping, entertainment, beach activities… Selling a lifestyle helps us close more sales than simply selling a house.
In many cases, an event has altered a home buyer's lifestyle and that is causing them to move. Once we understand what it is, that's in their life right at that moment, and we position your property as the key to them having that lifestyle, true sales will be made. Some folks are ready to retire and play golf day in and day out. Is your property in a golf community? If so, we may focus on that aspect. Other folks may want to live in communities with a club house and social activities planned for residents. Other relocating home buyers may be interested in active adult communities and we make it easy for them to learn more by accessing our free online ebook on Sun City Hilton Head. We go beyond simply selling features in your house by selling the lifestyle in our area and in your neighborhood. A lifestyle focus is even more important with luxury real estate sales. No one really needs a second, third or fourth home that is valued above the one million dollar or two million dollar price points. So, we have to move away from marketing the square footage, the number of bedrooms and baths, and start marketing the lifestyle that owning that home allows. We don't simply focus on selling the home, it's more about selling the lifestyle or benefits of the home, the neighborhood and the Bluffton area. At Steve Wallace Real Estate, we don't just sell houses; we sell neighborhoods and lifestyle!
One-Stop Shop Bluffton Real Estate Website
Steve Wallace Real Estate online is a one-stop Bluffton real estate website for all your home buying and home selling needs in Bluffton, SC. We integrate & display Bluffton properties on our premier real estate website. We provide simple and effective home search tools for folks planning to buy Bluffton homes and sellers researching the local real estate market in their neighborhood prior to listing their homes for sale. Our website is fully mobile responsive and looks great on smartphones, tablets, notebooks, laptops and desktop computers.
Avoid Common Mistakes And Get Your Home Sold
We help our real estate clients, selling Bluffton real estate properties, avoid common mistakes. Overpricing your Bluffton home, especially compared to other houses on the market on your street, in your neighborhood and the surrounding area, is the best way to turn off potential buyers. Don't just set an amount based off of how much you'd like to make from the sale. There are many factors to take into consideration when pricing, and many of them depend on the Bluffton real estate market. We provide up-to-date data on active listings of homes for sale, under contract homes and recent solds of comparable properties. This data allows our home sellers to make informed list pricing decisions based on the current market.
We also cover many items worth consideration prior to listing your house for sale. These items include spic n span cleaning, decluttering and getting your home show-ready. Additionally, it is important to make showings easy for agents and buyers as restrictions can limit the number of showings scheduled and offers to purchase received. Last, we discuss the importance of utilizing the services of a full-service real estate company and an experienced agent who works with both home buyers and sellers; not an agent who sets up your listing on the multiple listing service and forgets it. Today's sellers' need a proactive agent who markets homes to sell. Those sellers in need of additional assistance, because they previously had their home listed for sale or attempted and unsuccessful FSBO (for sale by owner), can request our helpful ebook, "Why My Bluffton SC House Did Not Sell the First Time." No matter your current situation, or if you tried to sell your home before unsuccessfully, we can help.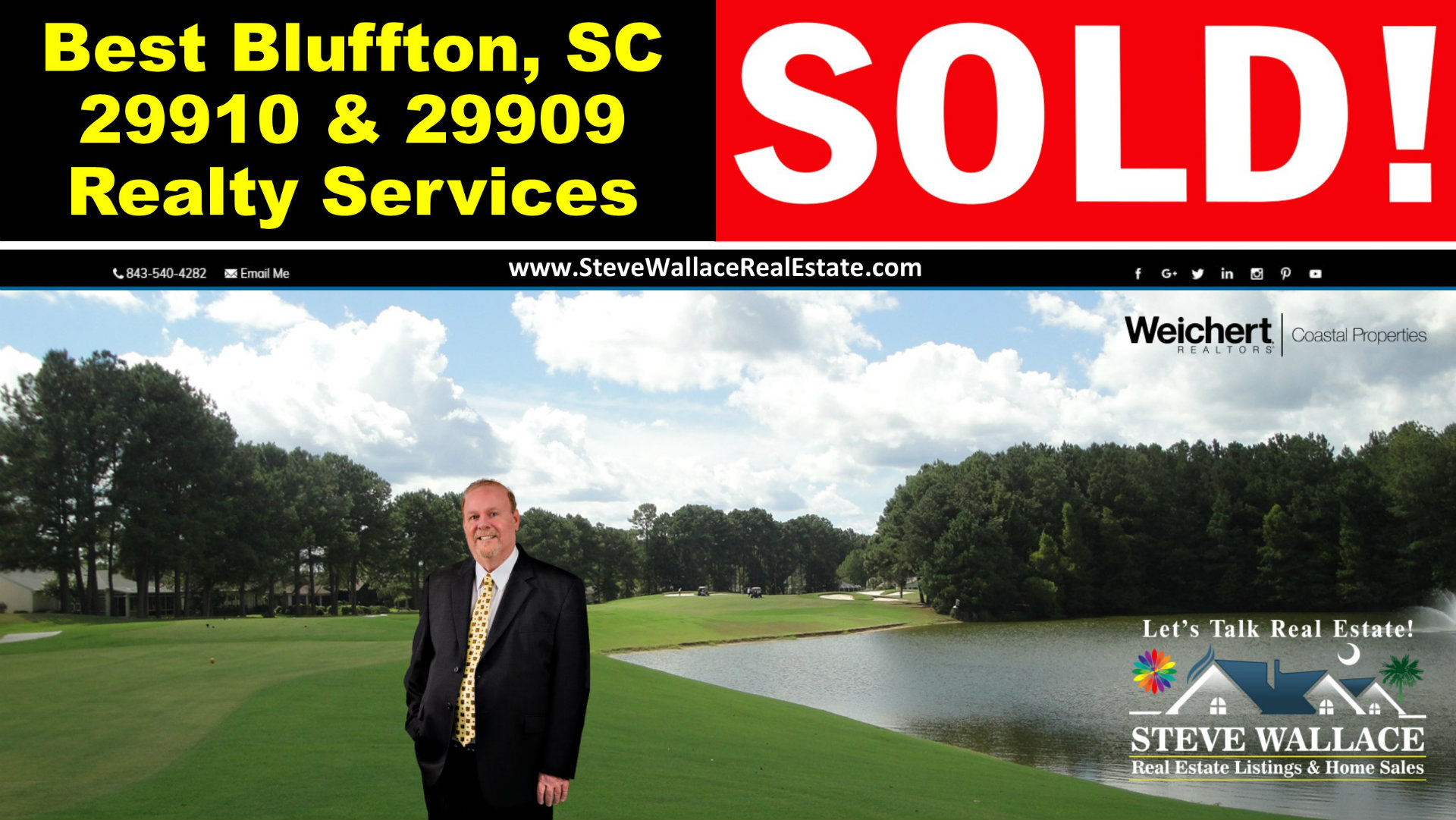 Your Guide to the Sales Process
In many cases, your Bluffton home may be your most valuable single asset. When you decide to sell your home, it is important to be sure that you have all of the information you need to make wise decisions. Hire Steve Wallace Real Estate to find a buyer and we'll guide you through the listing, marketing and sale process. Invite us in… we bring results. We're selling Bluffton homes.
Steve Wallace, Realtor® Based in Bluffton, SC
Accredited Buyer's Representative (ABR®)
Short Sales and Foreclosure Resource (SFR®)
Real Estate Listing Agent and Seller's Agent
U.S. Military on the Move Real Estate Professional
Assisting Folks Buying Homes and others Selling Homes
Steve Wallace Real Estate Listings & Home Sales
Weichert Realtors Coastal Properties
Greater Bluffton, South Carolina, USA
SteveSellsHomes@Outlook.com
1-843-540-4282